Preserving memories with photos and videos is a common thing. But it is hard to memorize location, date and other information that bind to photos. There is a Android application that can add a personal touch to images by including a customizable stamp that displays current time, location, and signature. Add your own stamp with enough customizable features to your photos and selfies with PhotoStamp Camera apk.
Features of Photo Stamp Camera Apk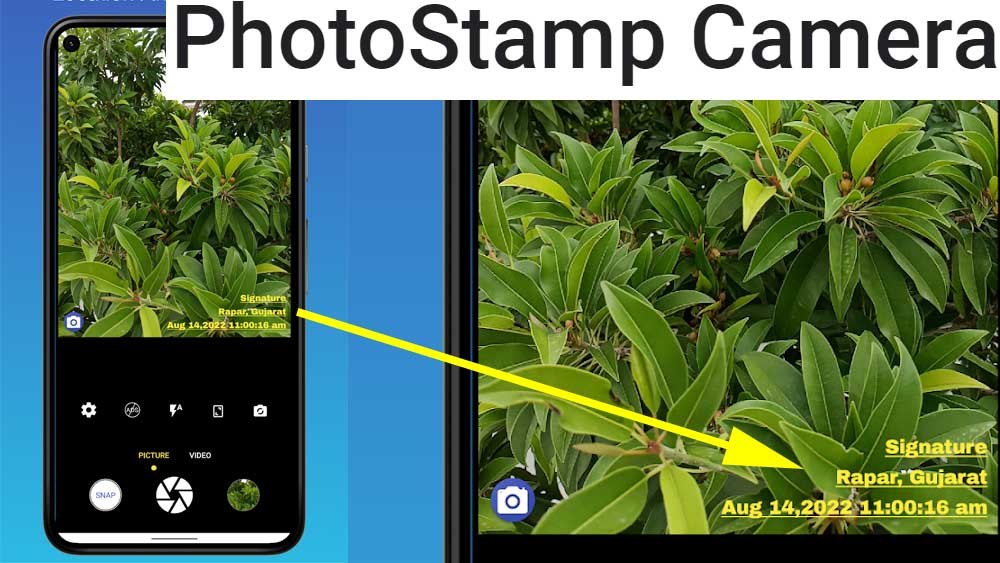 Adding Details to Images
Now you can capture photos and selfies with real-time details. With phone date & time with location services, this app automatically adds the current time and location information to every photo. Whether you prefer a specific time format or wish to select a different location, PhotoStamp Camera offers flexible options to suit your preferences.
Customizable Stamp
No need to stick with default stamp provided by this app, you have the freedom to personalize your stamp. Drag and drop the stamp position, ensuring it perfectly complements your image composition. Additionally, you can customize the font, font color, and font size, providing endless possibilities to create a unique and visually appealing stamp. The app even supports adding a shadow color to the stamp, enhancing its visibility and aesthetic appeal.
Stamp Transparency
Does stamp get highlighted most than the photo subject. To strike the right balance between stamp visibility and image you to adjust the transparency of the stamp. This feature ensures that the stamp does not overpower the image while still being clearly visible.
Auto Add Location Address and GPS
PhotoStamp Camera simplifies the process of adding location information to your images. This Android stamp app can add address corresponding to the captured location. This feature saves time and effort, providing a comprehensive and accurate description of the phot location.
Different Font types
Express your creativity with over 800 different font formats available in PhotoStamp Camera. The app offers a diverse range of fonts, allowing you to find the perfect style to match the mood and theme of your images. Furthermore, the app supports font styles like bold, italic, outlined, and underlined, empowering you to add emphasis and personality to your stamp.
Logo as Signature
It is not about adding basic stamping to your photos. You can add your own logo as a signature on photos. Whether you are a professional photographer, a business owner this feature allows to add your signature to all of your photos easily.
Add stamp to any photo
Do you want to add stamp to previously captured photos. PhotoStamp Camera enables you to add the stamp of your choice to existing photos too. Preserve your memories and add a personal touch even to your older photo collection.
Camera Resolution and Aspect Ratio
This camera app also provides basic camera features like aspect ratios and resolutions. Select the perfect settings for your specific requirements. Whether you seek high-resolution images or wish to capture unique compositions, this feature ensures your photos match your vision.
Custom Text Signature Stamp
In addition to adding a logo as a signature, you can create a custom text signature stamps. Express yourself with a personalized message or tagline, adding a unique touch to every photo you capture.
Conclusion
Easily add stamps, logos or signature to your photos with PhotoStamp camera app. Easily add stamps to previously captured photos using this app. You can use beauty camera apps like B612 to get perfect beauty shots and use this stamping app to add your stamp. Camera apps like B612 apk are optimized for beauty shots with hundreds of beauty filters, effects, stickers and more. Therefore, it is reasonable to use different camera app to capture photos and selfies and use this app to add stamp.